"It's a guy (Golding) who has loss his relevance and is trying to be relevant, but by attacking your own party... that nuh make yuh relevant," declared a seemingly irate Warmington.
"... And I want to say, Bruce (Golding) needs to stop it, and stop it now! Back off!" thundered Warmington during a tour in North East St Elizabeth on Wednesday.
His comments came in response to statements Golding made on a local radio programme he (Golding) hosted recently.
Commenting on the SSL/Usain Bolt fraud matter, the former JLP leader suggested that the Government "has a responsibility", as "they are the ones that issued licences to these investment houses".
According to Golding, in issuing the licences, "what they (the Government) are saying to the public is that I'm satisfied that these are good people to do business with, so you can do business with them."
In elaborating, Golding further said: "Well that is what Usain Bolt did, and look what happened to him."
The comments from Golding were carried in snippet of his overall comments on the programme, which have gone viral on TikTok.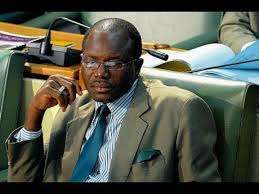 Everald Warmington
More than Jamaican $1 billion has gone missing from an account that was held on behalf of Bolt at SSL in the burgeoning fraud case that has reverberated globally. This is largely because the company's most famous client – the sprint legend - is said to have lost US$12.8 million in the debacle.
Warmington, who is the Minister without Portfolio in the Ministry of Economic Growth and Job Creation with responsibility for works, said Golding's commentary is part of a wider attack on Prime Minister Andrew Holness.
"What I find with this guy (Bruce Golding), he always finds some reason to go after Andrew Holness indirectly, and my position is, Bruce Golding as leader has been a failure, (and) as prime minister, double failure!" Warmington insisted.
He cautioned, though, that the views he was making are his own, and not that of the party that Golding led from 2005 to 2011.
Golding was sworn in as Prime Minister of Jamaica on September 11, 2007, and served in that capacity until his sudden resignation on October 23, 2011, amid a controversy relative to a development after an extradition request was made by the United States government for then Tivoli Gardens strongman, Christopher 'Dudus' Coke.
Clearly incensed by Golding's recent remarks relative to the SSL matter and the Government's perceived handling of it, Warmington reiterated his call for Golding to "stop it now!"
Added the controversial politician: "I believe if there is an issue, Bruce Golding, who has been a former leader, a former prime minister, (should) call Andrew Holness and talk to him behind closed doors...
"... But yuh keep on snipping, and it's an attack indirectly on my prime minister, my Government, and party, and I will defend the Jamaica Labour Party, Andrew Holness Administration, and Prime Minister Andrew Holness by any means necessary," said a seemingly resolute Warmington.
To the issues Golding raised relative to the SSL fraud matter, he said: "My position, based on his (Golding's) statement... on some programme that he is on, (is) enough is enough!
"You gonna talk about Government must encourage people to invest in stocks and whatever..., what on earth does the Government have to do with SSL?" Warmington questioned.
"That's a private investment entity," he said in responding to his own question.