"This road is a step in improving the general quality of life for all Jamaicans; a step in improving the productivity of all Jamaicans," Holness said, pointing out that the highway projects will make it easier for Jamaicans in rural areas to consider taking jobs in other areas as travel time will be reduced.
"It also improves the response time of our emergency services, improves the delivery, and lowers the delivery cost of our agricultural output to market," Holness added as he argued that infrastructure build-out improves people's well-being.
"Infrastructure is the foundation of any economy... Good infrastructure enables trade, drives businesses, connects workers to their jobs, and creates opportunities. Without good infrastructure it is difficult to attract investment [and] create jobs," the prime minister said.
"Our infrastructure programme doesn't stop here. I want you to look out for the extension of the Williamsfield in Manchester to Hodges [near Black River] Highway. The ultimate plan is to extend the east-west highway to Negril and this highway will bypass Spur Tree [Hill], which is such a treacherous road, and it will be a four-lane highway with international standards for driving and safety," he said.
The May Pen to Williamsfield highway project — which will reduce travel time from Kingston to Mandeville and other points west — was originally scheduled for completion in October 2022. However, that timeline was changed to January 2023 and later March 2023.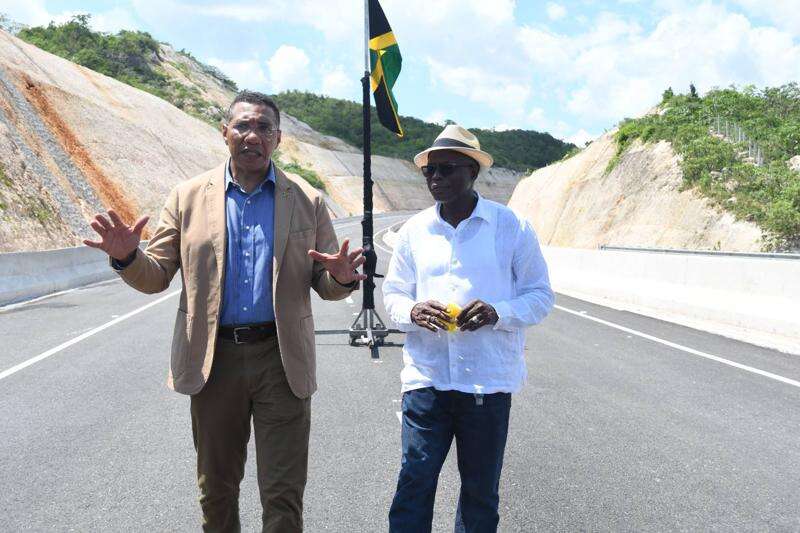 Prime Minister Andrew Holness (left) and Everald Warmington, the minister without portfolio in the Ministry of Economic Growth and Job Creation with responsibility for works, walk on a section of the May Pen to Williamsfield leg of Highway 2000 after it was officially opened Thursday morning.
The highway, which motorists will use toll-free until the end of this year, includes the design and construction of approximately 23 kilometres of a four-lane, arterial, divided road on a new alignment and the upgrading of approximately five kilometres of the existing Melrose Hill Bypass to a four-lane, rural, arterial, divided road.
Holness said he wants the timeline for the planning and construction of highways to be reduced.
"As you can see, it is usually five years from plan to cutting the ribbon. I am going to try and shorten that period as much as we can, because as we build more infrastructure, especially taking on these large infrastructure, we are also building the management capacity for these infrastructure," he said.
"I am not expecting that it will take five years, but I want you to also appreciate that it is not just putting the tractor on the road and the excavator to tear down the hillside. A lot of work has to go into this," added Holness.
He explained that procurement and studies are essential to ensure the highways are built to regulatory standards.
"We have to do the environmental [studies], we have to do the regulatory, we have to do the administrative, we have to do the procurement, we have to do the public investment assessment, just to ensure that every dollar that is allocated to the project is actually on the project," said Holness.
He pointed to the Montego Bay perimeter road now under construction, saying "… that is going to ease the traffic in Montego Bay and add speed and comfort to the travelling public in that area".
The US$274-million project is expected to be completed by the end of 2025, consisting of a 14.9-kilometre perimeter road to provide motorists with an alternative route around Montego Bay. The project also includes the rehabilitation of Barnett Street and West Green Avenue, a 10.5-kilometre Long Hill bypass road, and a comprehensive drainage study of Montego Bay.
Reiterating the need to connect the east-west and north-south highways he said, as it now stands, motorists are forced to travel off one to access the other. To remedy that "there will be an interchange".
Additionally, he said that the north coast highway will be expanded by 30 kilometres to end near Trelawny.
"We have started negotiations on that; [it] will significantly ease the traffic flow in that area," he said.
Holness also said he is preparing for the official opening of the southern coastal highway.
"In a few weeks I will be opening the South Coast Highway Improvement Project Part B; the eastern section, Harbour View to Port Antonio. The people on that side of the island have endured, and I want to say to them I thank you for your patience," said Holness.
"When we say we are connecting Jamaica, we are making Jamaica a smaller place in terms of the time to travel, so you could potentially now realistically have your residence in Mandeville and work in Kingston if you choose," he said.